HELIO Is Portable Solar Power
HELIO is an ultra-efficient source of light and power. 100% Solar, 100% Heart. HELIO is great for camping, hiking, emergencies, gazebos, use as a night light, stargazing... or wherever your adventures may take you.
HELIO is based on a simple idea: to design a solar light and power source we could use for adventures and emergencies, and that others in need would use daily. Great for camping and other off-grid activities, HELIO lights up your camp site, your garage...anywhere where there's no power.
What makes HELIO better than other solar flashlights?
Makers4Good set out to design an off-grid personal power station that performs for the most demanding uses—plus something stellar for people in parts of the world without reliable access to power. In both cases, a rich set of features with high-capacity personal power storage helps people be productive and thrive. With HELIO, you are not foiled by the dark and you can stay digitally connected.
Solar Flashlight
Personal lighting features start with a utility flashlight, whose 15° light beam is driven through a multi-staged lens assembly. This design gives ample light in the focus area and provides mild off-center illumination enabling peripheral vision. You'll see what you intend to see, and you'll know what's hanging around in the dark.
Three Amazingly Useful Lighting Modes
Solar Lantern, White
HELIO's white lantern mode makes doing close tasks at night comfortable. The 28 4000° Kelvin white LEDs are diffused through multi-staged diffusors. The light is pleasing to the eye and minimizes shadows.
Solar Lantern, Red
Because sometimes night work requires you to see things close while preserving your night vision, we provided you with a red lantern function. The red lantern has 26 LEDs, diffused and colored red to maximize vision and minimize shadows. Whether on your boat, with your telescope, or just checking maps while hiking after dark, HELIO lets you see what you need to see up close—and also see deep into the night.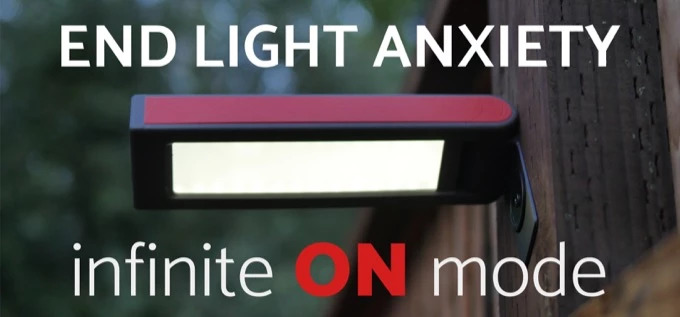 All three HELIO lighting modes include today's most efficient LEDs and LED driver circuits to ensure the highest power light with the least battery consumption. Each of the three HELIO lighting modes have three power settings. The highest power settings provide lighting flexibility for demanding tasks. The middle settings provide ample light for normal tasks. Thanks to the ample storage in the HELIO batteries, the low Infinity Power setting for each lighting mode allows the lights to stay on continuously for a month using a full battery, or forever with some solar input to the solar cell.
When you need a flashing light, HELIO's flashlight and white lantern combine to provide a bright, mixed warning light—mixing both the focused beam and the diffuse light for maximum visibility in a variety of circumstances.
The HELIO form factor makes sure all the personal lights and power features are accessible. When used as a flashlight, the colored rubber coatings help you keep a firm grip, and the rectangular shape settles easily in your hand. For extra security, HELIO includes a high strength aramid lanyard. The rectangular shape nestles comfortably on your car's dash, so you always have a fully charged light immediately available when you need it.
The Amazing Built-In Stand
HELIO's stand is a marvel of engineering. When used on a tabletop, it holds the lantern to illuminate your reading or work directly—or, if you prefer, to provide indirect room lighting. It allows for hands-free flashlight use, and can also be used to maximize sun exposure for the solar panel. If that were not enough, the hole in the stand lets you mount your HELIO on top of a soda bottle.
To maximize the ways you can use your HELIO a clamping disk and mounting screw are included. This lets you mount your HELIO to walls, posts and doors. Need a light on a shed or path and there's no power? HELIO screw-on mounting clamp comes to your rescue.
A State-of-the-Art Solar Powerbank
The HELIO solar charging system provides a full 1 watt of charging capacity. We use today's best solar charge controllers, so you can capture the maximum amount of energy throughout the day. These charge controllers protect your HELIO's batteries from overcharge conditions. They also manage HELIO charging from the USB port, and provide a level of thermal management not found in most personal portable powerbanks. These features make HELIO one of the best power banks on the market.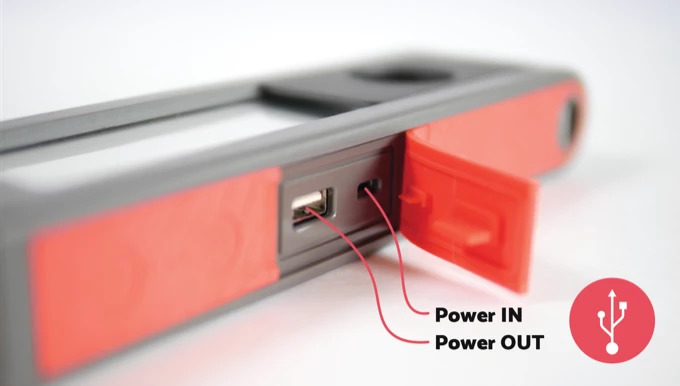 When it's time to charge your phone, the 10.5 Watt USB charging port will power up your iPhone, Android phone, tablet or other device quickly and efficiently. In no time you'll be reconnected to the digital world. Whether you need to make an emergency call or for streaming video, the 5200 mAh Li-Ion battery makes sure you have enough power to stay connected.
In the box
HELIO outdoor solar light & personal power station
Three utility lights (flashlight, lantern, red lantern)

Flashing safety light function

1 Watt solar panel

5200 mAh battery

10.5 Watts (output) USB charge port

10 Watts (input) USB charge port

Easy grip, non-slip comfort padding

IPX4 water resistance

Built in multi-function stand
Aramid lanyard

Mounting clamp and screw

User Manual
Beyond the box
Makers4Good believes that everyone should have access to safe light and power, so 100% of profits from HELIO will be used to provide light and power to those with limited access to electricity.
To learn more, visit the Giving page.